E-Commerce SEO Services For Better Brand Positioning
The Soft Hub LLC is the best place to grow your online store well. Our ECommerce SEO services position your brand and store at the right place on search engines to reach the right audience.
Why Invest in E-CommerceSEO Search Optimization?
Want to sell your stuff faster? E-Commerce SEO marketing is the key to achieving what you want. At TSH, our ECommerce SEO Strategies help you have better traffic, targeted customers, and convertible clicks. We follow ultimate SEO factors, and these Include:

Dedicated Keyword Research

On-Page & Technical SEO

URL Structure Draft

User Experience (UX)

Backlink Building

Content Marketing

Reviews and Ratings

Local SEO

Voice Search Optimization

Video SEO

Continuous Monitoring
Result Oriented and Unmatched E-Commerce SEO Services

TSH LLC offers Professional e-commerce SEO services that help you reach your targeted consumers faster. We connect you with an e-commerce SEO expert who can drive measurable results by adopting an effective e-commerce SEO strategy.
Understanding the need for SEO for e-commerce, we offer these ultimate services that help beat the competition. These services are result-oriented and research-based, so that you can count on results. Entrust your store to professionals who have grown unlimited e-commerce stores in the past few years.
The Soft Hub llc
Best E-Commerce SEO Services for E-Commerce Businesses Hitting All-time High

Ultimate ECommerce SEO Company that Never Fails to Perform
Are you seeking the Best e-commerce SEO Agency to handle your e-commerce website? The Soft Hub LLC offers you results-oriented services to boost your e-commerce reach.
We offer the ultimate e-commerce store SEO Strategies that enhance product visibility and brand image. Our experts formulated these strategies after in-depth research and experience.
ECommerce SEO Certified Professionals

The Soft Hub LLC connects you with Professional e-commerce Search Engine Optimization (SEO) Certified for their services. We are not among the E-Commerce SEO Agencies that hire immatures. Our team only has SEO Specialists who understand the need for SEO for e-commerce websites and yield you the ultimate results through best practices.
the Soft Hub
Our e-commerce optimization Services Include?

Our E-Commerce SEO campaign is far different and extensive compared to what other agencies are offering you.
Custom strategy
SEO Audit
Product Analysis
On Page Optimization
Off-Page SEO Optimizations
Technical SEO optimization
Ongoing Optimization
Monthly SEO Reporting
Roi Tracking
Our e-commerce SEO campaign starts with a custom strategy. Every e-commerce store is different and has different needs. So, we work on the expectations and understand the niche of every store for a strategy. Not just the store type we consider:
Target consumer market

Product and service category

Consumer need or intent

Market competition
The next step on the list is the SEO audit. For every e-commerce store, it's essential to audit its performance. It helps to understand the existing situation of the store and create a strategy ahead. Our audit experts look into factors like
On page elements

Meta tags and titles

Off-page elements

Technical SEO elements
Since e-commerce is mostly about sales, evaluating the products is essential. Our team examines the products, their USPs, downsides, and competition. All these factors helped to build a better strategy and direction for the optimization.
Product type and USPs

Competitors product features

Consumer needs and preferences

Customer reviews & ratings
Next on the campaign is the SOE on-page optimization that helps optimize the on-page SEO content. It reflects the e-commerce store in the search results and creates better rankings. The process involves:
Keywords research

Page optimization

Content planning and optimization

Link building
Off-page optimization is all about building a backlink profile for the e-commerce store. You may not know, but for e-commerce, off-page strategies work and bring out effective results. Here is what we do for the off-page SEO

Strategy keyword placement
Guest blogging
Backlinking strategies
Backlink quality management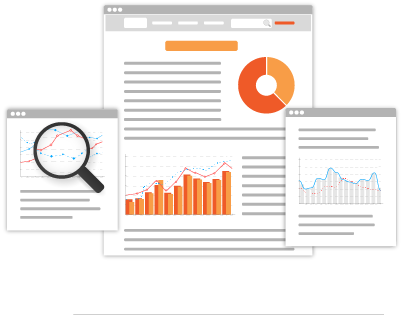 Our team takes care of the technical aspects of SOe for e-commerce websites. In these websites, numerous technical factors require attention. From the tags to images, speed, and more. Our team takes care of them.
Speed optimization
Meta titles and tags
Page and website structure
Audits and reviews
At TSH e-commerce SOE is not one-time. Just like your business is ongoing and SEO updates are continuous, our services are ongoing. These are ever-evolving and bring you advanced optimization strategies.
Reviewing SEO updates
Adapting SEO changes
Audit, review & improve
Implement latest technologies
Our tradition is to keep our clients informed about what's happening and analyze the SOE performance. We believe in rigorous monthly reports that are a great tool to measure the success or progress of an SOE strategy. It helps us to modify or change the strategies.

Backlink reports
Content reports
Keyword performance reports
Overall website performance reports
Just like you are easier to know about the profiles in the business, we are concerned about your ROI in e-commerce SEO. Our professionals provide detailed reports about the returns your business enjoys on the investment with eCommerce SEO.
Sales and traffic data
Comparison charts
Latest trends and performance
Competitor reviews
The Soft Hub llc
3 Ways E-Commerce SEO Product Management Impact
Make three block headings or ensure each heading should be relevant to "E-Commerce SEO management services.

Boost Overall Traffic & Sales

The competitive e-commerce SEO management services help to boost your overall store traffic. The efficient strategies reflect boosted sales, increasing your profit and ROIs.

Reflect Store in Top Results

Your e-commerce store reflects among the top searches for the product categories on search engines. E-commerce SEO enables your business to comply with SEO algorithms better.

Promote Positive Competition in Market

E-commerce SEO enables your store to perform better in comparison to the competition. More traffic results in more sales, and profile management brings unlimited benefits.
Driving digital revenue for our 1000+ satisfied customers
Average Traffic Increase for Clients

Before partnering with The Soft Hub, our business website had difficulty appearing on the first page. But in just a month, things took a surprising turn. The TSH team did it for our business and brought us to the first page among the top five results. We were happy with their transformation. Surprisingly, it was not for a little time, but still there, and we are growing better every day.

I had my reservations about SEO at first. Though it doesn't require a professional, I thought to do it myself. Well, it all changed when I interacted with The Soft Hub for the first time. They got my trust in the very first meeting. The person I was talking to knew what he was talking about, and their free audit report was just an eye-opener. Thanks to them, I am enjoying the best rankings with less stress. Kudos to the whole team!

Working with The Soft Hub has been a game-changer for our business. Not only did they optimize our website for search engines, but they also educated us along the way. Thankfully, we understood their strategies due to their supportive team. We are happy to find a partner that's both skilled and transparent. Highly recommended!

Hitting the heights of top results was my wish. Investing in SEO was a big step; I knew it was not a one-time thing. But the price wasn't much for something I was dreaming of. I needed results, and TSH gave me those. I am glad that I chose The Soft Hub for my SEO campaign. Their in-depth analysis, innovative tactics, and dedicated team have given me a competitive edge in my industry. I am ranking well and happy about it.

My Experience with TSH has been amazing. They have the best team for SEO services that serve with diligence and dedication. After four months of hard work, I observed a visible uplift in my website's traffic. The ROIs were satisfactory, and till today, I am getting better every day.
Our ECommerce SEO Services Process:

Everything Our Professional ECommerce SEO Process Includes

Keyword Research

Our ultimate e-commerce SEO starts with keyword research. Considering your target audience, business niche, and target market, our SEO experts review and extract the best keywords. These keywords are the source for your e-commerce store to rank well with the search engine.
We do not invest our resources in underperforming keywords and exclude them from our plan quickly. Only the healthy keywords make it to the campaign after extensive keyword testing and evaluation.
Competitive Research

Since you are not the only business of a niche, we review the other businesses of similar nature online. The competitor's research is essential to understand market competition and deal with it accordingly.
Our experts do not take it easy. Extract maximum information from the activity. They look into the stats, performance, keywords, strategies, and other factors. We pick up our competitors' good points and mistakes to implement the best strategies for your camping.
website Audit

Every E-commerce store is designed differently. Based on the target audience, it needs to have a specific structure. We performed the audit before working on the structure to review what it's been doing and why.
The audit includes studying all elements from on-page to off-page, technical to non-technical, and others. The audit helps us to identify the loopholes and prepare a plan to fix them in the future.
Site Architecture

The next in line is the site architecture. How your store is designed on the front and back end greatly affects its performance. We look into the technical structure as well as the presentation of the store.
Our web store experts look into these details carefully and suggest all the changes that make your e-commerce store look appealing. These essential changes make your store user and crawler-friendly simultaneously.

Technical SEO

Gathering effective results without technical SEO and working on its factors is impossible. Our technical SEO experts look into the missing factors in your e-commerce store and fill them up.
We take these points very seriously as the technicals drive massive traffic to your site. Following the best practices, we enrich your web store with the right factors.
On-Page Optimization

On-page optimization for your e-commerce store is a part of our e-commerce SEO offerings. It's essential to optimize the pages with search engines so your store will reflect in the search results.
The optimization includes every on-page element and multiple factors. Following the latest SEO updates for e-commerce stores, we assure you that all ages are highly optimized and rafted to achieve perfection.

E-Commerce Content Strategy

If you think selling stuff doesn't require content, you are wrong. Even the commerce stores require a high-quality and well-planned content strategy. You need to get the product and store description right.
Our content managers at TSH carefully design and implement the SEO content strategy for stores to ensure you get what you deserve. The content is noticeable for the crawlers and visitors, too.
Link-Building Growth Plan

Goring your rankings is highly contributed by the internal or external links, follow or no follow. We map these links carefully to ensure your e-commerce store gets the right authority and support.
The link-building experts work only on the worthy and effective links suitable for your website, making it look legitimate and appealing for the search engine to rank well.
Reporting and Maintenance

Our e-commerce SEO is about keeping the facts straight and getting them in line. We work on regular reporting and maintenance for your e-commerce SEO store. With ever-evolving SEO strategies and algorithms, we transform our plans and implementations.
It helps you be steady with your performance and deal with the competition well. Eventually, you will experience gradual growth in your reach, traffic, and sales. With reporting, we keep you informed.
ROI Tracking
Along with all the processes, we take an extra step forward to track your ROIs. We understand that you are concerned about your investment and profit. So, we track your website's Return on investment effectively to help you understand the benefits of our SEO strategies.
Our SEO experts are monitoring numerous factors to evaluate the ROIs. These include traffic stats, click-to-sales conversations, web page ranking, keyword ranking, and more. All these, in combination, provide an ultimate insight into your e-commerce store's progress.
We are More Than Just an ECommerce
SEO agency.

The Soft Hub LLC is one of the promising and competitive agencies which is Best for E-Commerce SEO services. We are dedicated to providing you with SEO for e-commerce sites and many other businesses.
We have a portfolio of the best e-commerce optimization services that are unmatchable and perfect. We are the best e-commerce SEO company with our services not just limited to e-commerce. We do provide you with other search engine optimization solutions:
Local SEO
Make your business locally optimized to reach the localized audience and increase ROIs.
Google My Business optimization
Local directories integrations
Increased localized sales and outreach
Shopify SEO
Exclusively designed for Shopify to make the stores appear better in searches and rank higher in minimum time to increase sales.
Enterprises SEO Services

Building the enterprises better with high-end optimization strategies and creating a vibrant image online.
Branding and enterprise optimization
Competitive portfolio development
FAQs about Ecommerce Search Management
What are E-Commerce SEO services?

E-commerce SEO services are medically designed for e-commerce stores to make them rank well online. The need for optimization for e-commerce stores is different. Unlike regular websites, the professionals look into additional factors in the optimization process.
The dedicated services assure effective results for rankings, more traffic, convertible visitors, and sales. The overall strategies for e-commerce optimization are similar but do have different outcomes.
Why do I need SEO services specifically for E-Commerce?

If you have an e-commerce store, you need dedicated services for e-commerce SEO services. These services address the need for SEO for your store exceptionally. You cannot achieve the best returns on your investment with basic SEO practices.
You need a dedicated page and product optimization approach so the consumers will reach your store for purchases. The SEO services for e-commerce help you crack through the deal and get the right audience that converts into customers.
How can E-Commerce SEO services improve my store's visibility?

E-commerce SEO services are all about working on the factors that uplift your store presentation visibility and ranking online. Using technical and non-technical factors, our SEO experts at TSH make things work.
They invest energy and effort in product optimization, page optimization, technical SEO, backlinking, on-page and off-page SEO, and more. All these and many other factors combined improve your store's online visibility, giving you more traffic and potential buyers.
Does E-Commerce SEO only focus on products?

No! E-commerce may sound like all about selling products, and it's a major part of the e-commerce SEO strategy. However, it's not the only thing that is in focus. For the ultimate SEO for an e-commerce store, we at TSH focus on the store presentation, website structure, overall on-page and off-page content, link building, brand image, and customer reviews.
We consider everything that can eventually impact the store on a larger note. It is essential for a successful e-commerce store to get everything in line and impress the customers well.
Are E-Commerce SEO techniques different from other e-commerce platforms?

Yes! Every e-commerce platform has its formations and exceptions. The strategies for each e-commerce platform, from Woocommerce to Shopify, can be the same, but the techniques and implementation are different.
Experts at TSH understand the differences and delicacy of these platforms. That's why we offer you dedicated e-commerce SEO services that fit the needs of each platform and give you the desired results.
How long does it take to see results with E-Commerce SEO services?

The sooner you start with E-Commerce SEO services, the better results you can observe. However, in a few weeks, you can observe some visible improvements in your traffic and sales with some technical improvements.
In the long run, it's essential to give SEO a minimum of 6 to 8 months to observe gradual uplift. In this period, all the combined technical and non-technical aspects develop harmony, giving you the best outcomes.
Can I maintain my ECommerce SEO after the initial setup?

Maintaining your E-Commerce SEO after getting an initial setup by a professional is possible, but it's difficult. ECommerce store SEO services include more than 200 factors that professionals work on. While managing your business, focusing on these factors is impossible.
Additionally, there are regular updates by search engines, and compliance with these updates is essential to avoid any hiccups. Getting professional services helps you to avoid hiccups and get everything done right in time. You can enjoy the ultimate SEO results with affordable SEO services for e-commerce businesses by TSH LLC.
Why can't I just use E Commerce's built-in SEO tools?

Built-in SEO tools for e-commerce stores or plugins are too basic to give long-term results. These can work for you with the basic setup, but you cannot expect to rank well using these tools.
There are numerous technical factors only professionals can sort out for you. Instead of investing in the basic tools or built-in factors, it's better to work with a reputed SEO provider like TSH and get things done professionally.