МARKETING SOLUTIONS
Reliable SEO Link Building Services Growing Your Site Better

The Soft Hub LLC offers reliable SEO link-building services, ensuring your site will have relevant, valid, and result-oriented backlinks. Our link-building experts review and audit these backlinks to ensure measurable results.
Link-Building SEO Search Optimization that Yields Results

Why do you need backlinks? These backlinks will boost your site's domain and ranking to make it a valid source for crawlers. To ensure that you will get the required results from the service, we use advanced SEO link-building Strategies; these include:

Quality over Quantity

Relevant and Diverse Link Profile

Natural Link Acquisition

Anchor Text Variation

High-Quality Content

Outreach and Relationship Building
Broken Link Building

Monitor and Disavow

Local Link Building

Competitor Analysis

Content Promotion

Long-Term Perspective
Get Relevant Links with Advanced SEO Link Building Services
You may get backlinks, but are these worthy and relevant? Little did you know that the links you get for lower prices are irrelevant to your website. It's the reason TSH LLC offers you professional link-building SEO services that ensure they provide relevant and well-performing backlinks.
Our link-building strategies are result-oriented and get quality links for your websites to maximize their benefits. We never run after quantity but the quality of relevant, convertible, and result-oriented links. With these links, you can observe a huge uplift in your site's ranking and domain authority.
The Soft Hub
Our Best link-building SEO Services make every single link Count!
Proficient Link Building SEO Company Makes You Hit the Heights.
Are you worried about your conversion rate or rankings? You do need to work on the White hat link-building SEO strategies. Our link-building team knows how to efficiently implement these strategies and yield results for you.
Unlike other Link-building SEO companies, our commitments are not just promises but the delivery of quality links that are long-lasting and well-performing.
link building SEO Certified Team at Service

TSH has Professional link-building SEO-certified gems at your service. We do not work with the immatures as we know the importance of Link building for SEO. Our team works on your website link building with dedication so you get all deserving results.
WHAT YOU GET
What is our building SEO Services company Includes?
TSH is among the best link-building SEO agencies offering high-end link-building services. Our core strategies make us better than SEO services companies, and they include the following:

Backlink Analysis
Competitor Backlink Analysis
Guest Posting Services
Local Business Citations
Content Marketing
Broken Link Building
Social Media Integration
White-hat Techniques
Monitoring and Reporting
Reviewing the website for all the backlinks and ensuring these are quality backlinks or not. We determine the level of attention a site requires for the backlink strategy.
Quality of backlinks
Type of backlinks
Availability of links
Need of specific types of links
Our experts look thoroughly into the backlinks of competitors and study what results they have and why. Eventually, form a plant that can have similar or better results. The analysis is all about evaluating competitors and the site's performance:


Extracting their backlink profile

Study the links

Mark down the best and worst links

Select the potential linking platforms
Plan and create guest posts that are worthy enough to be posted on guest blogs. These creative, precise, and niche-based posts meet the blog's requirements.
Quality and relevant content creation

Place anchors and links

Creating a call to action appeal

Produce long-term active content
Our link-building campaign includes local citations and link building. We choose to connect your website with the local businesses and local directories to develop a better association
Creating local business profiles

Citations with local directories

Reviews and ratings management

Maintaining link quality
For quality, link-building content is as important as any other SOE factor. We take it seriously and design content that stands out on the web and adds value to link building.


Research-based, high-quality content

Keyword optimization

Necie based topics

Address user intent
Our experts look out for the dead or broken but worthy links to reignite them and use them in your campaign. These assure a quick and better uplift in the SEO rankings or overall results.

Extracting high-quality broken links

Replacing content with better orientation

Outreach webmasters for replacement

Keep a follow-up for the links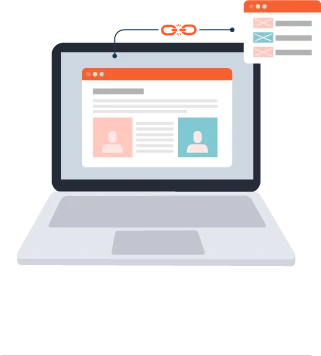 Take links from social media platforms that have high authority. These social platforms integrate with search engines, so they automatically generate better results.

Intensive social media integrations

Social shares and comments

Reviews and engagement management

Interactive posting
At TSH, we are bound to use the white hat link-building techniques that are safe and result-oriented. We do not look for shortcuts that can risk your site's online reputation.
In-depth link research

Invest in high-domain and authority links

Create unique and error-free content

Make fact-checking efforts
Our link-building campaigns are always supported by regular monitoring and reporting. We never leave your website unattended or keep you in the dark. There are regular reports you will receive about
Links quality & quality

Links authority and performance

Links validation

Guest posts
CREATING SUCCESS
Why is Link Building SEO Management So Relevant to SEO Success?


Build Domain Authority of Site

A higher number of backlinks increases the overall domain authority of your website. It eventually turns your site into an attractive link for many other websites, claiming that you are one of the priors in the relevant niche.

Route Crawlers to Websites
Relevant and appropriate links connected with quality content always support crawlers and lead them to your website. The links help the algorithm to identify your website in relevance to keywords.

Links Stays for a Long Time

You invest in link-building SEO services for once and enjoy its benefits for a long time. The links are rarely dead, so they support your website and contribute to ranking.
Driving digital revenue for our 1000+ satisfied customers
Average Traffic Increase for Clients

Before partnering with The Soft Hub, our business website had difficulty appearing on the first page. But in just a month, things took a surprising turn. The TSH team did it for our business and brought us to the first page among the top five results. We were happy with their transformation. Surprisingly, it was not for a little time, but still there, and we are growing better every day.

I had my reservations about SEO at first. Though it doesn't require a professional, I thought to do it myself. Well, it all changed when I interacted with The Soft Hub for the first time. They got my trust in the very first meeting. The person I was talking to knew what he was talking about, and their free audit report was just an eye-opener. Thanks to them, I am enjoying the best rankings with less stress. Kudos to the whole team!

Working with The Soft Hub has been a game-changer for our business. Not only did they optimize our website for search engines, but they also educated us along the way. Thankfully, we understood their strategies due to their supportive team. We are happy to find a partner that's both skilled and transparent. Highly recommended!

Hitting the heights of top results was my wish. Investing in SEO was a big step; I knew it was not a one-time thing. But the price wasn't much for something I was dreaming of. I needed results, and TSH gave me those. I am glad that I chose The Soft Hub for my SEO campaign. Their in-depth analysis, innovative tactics, and dedicated team have given me a competitive edge in my industry. I am ranking well and happy about it.

My Experience with TSH has been amazing. They have the best team for SEO services that serve with diligence and dedication. After four months of hard work, I observed a visible uplift in my website's traffic. The ROIs were satisfactory, and till today, I am getting better every day.
CREATING SUCCESS
Our Professional link building Search engine optimization Services company process

Research & Analysis

At TSH, we have a special dedication to research for all our services. Similarly, our link-building campaign process starts with research and analysis. Our experts will look into the details of clients' or their competitors' websites in the procedure.
We research and study the existing backlinks on the client's and competitors' websites. It helps to identify the issues with the backlink strategy and the need for improvement. Moreover, the competitors' analysis helps us to take the leads for relevant backlinks.
Strategy Development

After getting all the background information about the links and their basics, it's time to craft a strategy. The research already defines a baseline. Following the outcomes, our strategists look into the details further and develop a strategy.
They define the need for backlinks and track down the process of achieving the desired number of links. Our backlinking strategy defines everything from sources to the timeline, content, and more.
Content Creation

The next big step is the content on which we will get the links. Any blog or other high-domain site will provide us links only when we have something great to offer them. So, our content creators work on creative and valued content.
They create relevant, highly optimized, and pillar content for link building. We do not believe in the abundance of content but its impressive quality. The content experts ensure the content will have quality, detailed information, and facts and meet the information needs.
Outreach
After having the content in hand that is valued and optimized, we reach the platforms to post it. Our link-building experts have resources and links to niche-based blogs and webmasters. They write to them to offer a collaboration.
We provide them with content that is ready to be posted on their site and ask them for a link in return. The strategists ensure to sound convincing and logical so the platform will agree to publish the content.

Guest Posting

In our SEO, link building and guest posting have their significance. We consider it a full-time job and an important component of the campaign. Our experts gather the instructions and standards of guests posted by different blogs or websites.
They make sure to create content for guest posts that is high in quality, unique, relevant, and well-researched. It enables them to get successful postings with maximum results. It's a bit of a long procedure, but we came across this one smartly.
Local Citations & Directory Submissions:

We access the Local Citations & Directory platforms to gather some quality links. These are high-domain platforms with high traffic relevant to many businesses and websites. It's pretty easy to find niche-relevant directories and get their links.
These submissions help us to be one of the leading and most popular businesses or websites on the local directories. We assure you that you will benefit from their rankings online and will achieve the best outcomes.

Broken Link Building
Broken links are a fortune for your site and have better chances for approvals. Our link builder looks out for broken or dead links. They extract the no longer available content or the link that is not live anymore.
After replicating the link's content with the latest information, we contact the webmaster. Our experts ask the webmaster to replace the dead or broken link with a live link in the position. Through this, the webmaster can save valuable content or posts and provide us with a worthy link.
Engage in Online Communities

Apart from content, we use social media platforms and communities for link-building. These are a source to make a website popular and rank well by reaching more people.
Our link-building experts manage the social media engagement campaign. These campaigns let people interact with the website links or posts. It triggers a cycle of liking, sharing, and expanding the reach of the websites.
Monitor & Track
Just creating links and letting them be is not our job. We are professionals and take everything seriously. After creating the links, we monitor their performance and track them all the time.
It's essential to measure how these links are performing for us. Moreover, the position of the content and quality of the link matter a lot. Our experts keep a close eye on the attributes of these links, as they have to be the same as committed at the time of posting.
Reporting
All our hard work comes to you as reports mentioning everything. Whether our strategies are doing fine, great, or average, we always report it. Giving you insights about what we have done and all the experiments we followed to make you achieve success are in the report.
Our reports are regular every month and something bi-monthly, too. We assure you that you will have a complete overview of what has been done and how things are progressing.
TSH Offers More Than Just link building SEO services

TSH is giving the other link-building SEO companies a tough time. We are serving better than them based on our unmatchable link-building strategies. Additionally, we offer extensive SEO solutions covering everything you need for optimization. Our dedicated solutions include:

Shopify SEO Services

Optimize your Shopify store with search engines to let you have the traffic. Meet all the platform requirements for ultimate optimization.
Competitive plans and strategies
SEO Services
Classic and full-option SEO services that cover everything from keyword research to content optimization and more. It's a one-stop solution to ultimate ranking.
Dedicated keyword research
E-Commerce

Uplifting sales and click-to-purchase conversion rate using all white hat SEO strategies and practices. Making your e-commerce business bigger.
E-commerce store optimization
E-commerce content creation
Technical and non-technical SEO
FAQs about Link Building Services
What are Link-Building SEO Services?

Link-building SEO services cover the link-building and linking profiles of your website. It's a branch of SEO that dedicatedly deals with link building involving internal and external links.
The SEO professionals look into all aspects of SEO and generate quality links backed by quality and relevant content. They make sure to provide links from niche-based websites that do follow or do not follow in nature. Overall, the service uplifts the website's domain authority and ranking on search engines.
Why is Link Building important for SEO?
Link building is more like a game of reference for search engines. When several other sites with higher domains refer to a website, it gets more chances to be crawled and indexed.
On the other hand, these links from the popular sites on a page create its worth and add more power to its content. Eventually, it indicates the crawlers to index the page for relevant niches or categories. In short, link building is one of the foundations of SEO, leaving a larger impact on the overall ranking of the web page.
What are the Best Link-Building Strategies?
The top link-building strategies followed by SEO professionals include niche-based link generation, internal linking, guest blogging, quality content generation for linking, and relevant anchor text links.
All these strategies work combined to make your link-building effective and result-oriented. These strategies support each other to attain effective outcomes. Our experts at TSH use all these strategies and much more in coherence to advance the results. They assure you you will have effective, quality link-building results that pay off best.
How do you Execute a Link-Building Campaign?
The execution of link-building camping at TSH is pretty extensive. We have a set pattern that we customize for each campaign according to need. However, the elements remain the same, and we put similar efforts into them.
It all starts with the research & analysis of the website and its competitors. The research helps our experts to define the need for improvement or the points of correction. The next on the list is strategy development, led by content creation, which is our homework.
Next, we reach the leaving websites for guest posting to get the links and create a liaison. Another strategy is the Local Citations & Directory Submissions, which help us localize the links and get authority links in return. Moreover, we create broken links and engage online communities through social media.
What should I Look for when Choosing Link-Building Services?

When choosing a link-building services provider, you must be specific about your needs. Remember, you are not just after links but quality links relevant to your niche and give you the desired results.
Connect with a service provider who understands your niche and provides you with quality links that give enough weightage to your domain. The service should be based on specific strategies, experience, and expertise.
Meet the experts at the agency who will be handling your campaign. Ask them about the strategies and plans they will follow. Evaluate whether they will handle your campaign effectively or not. If you are satisfied, only then proceed with the service.
Are all Backlinks Equally Valuable for SEO?

No, not all the backlinks have the same value in SEO. Each backlink has qualities and exceptions that make it worthy of the procedure. Normally, we evaluate the backlinks based on their domain authority, relevance to the website, link position on the page, anchor text, and quality of do-follow or no-follow.
Additionally, the traffic and engagement of the link link contribute to the website, adding more to its value. Plus, the new backlinks are lower in value than the old ones, as they have been gathering up clicks and traffic for a long time.
Other than these factors, many other factors are responsible for the value of a backlink in the SEO process.
How do I Differentiate Between White-hat and Black-hat Link Building?

Differentiating the black-and-white hat link building can be difficult for a newbie. However, if you look closely at things, you will receive an effective evaluation. The white hat links are genuine, give your page gradual growth, and have quality content that is unique and relevant to your website.
However, in the case of black hat link building, you will not have do-follow links; these links have a short life and do not comply with your website niche. The link builders will bring you the links on a random basis and give your site a little instant boost. But, it will not last for long. Plus, the site on these links is not legitimate, and the content is spin or fake.
How Long does it take to see Results from a Link-Building Campaign?
Normally, the results you can observe from the link-building campaign are based on the SEO health of your website. Another factor is the health of your link-building campaign. You can expect good results if you are good enough to work on research and go for an in-depth campaign.
It normally takes a month to eight months to observe the results of your link-building campaign. Over this period, the regular reports help you observe your campaign's progress and fix any issues.